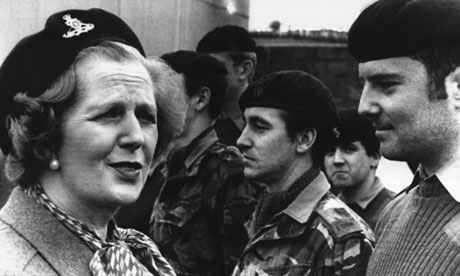 Margaret Thatcher's passing yesterday brings to mind a very stormy period in Anglo-Irish relations, the period of The Hunger Strikes [CAIN Web Service], which Dame Thatcher oversaw. The protest began with Bobby Sands' decision on March 1, 1981, to refuse food, and ended seven months later, on Oct. 3, when the six remaining prisoners on strike decided to end their protest. Meanwhile, 10, including Sands, died, leaving much of the world to ask, "Why?"
Left, Margaret Thatcher reviewing troops in Ulster on March 6, 1981, just five days after Bobby Sands began his hunger strike. AP File Photo
In his 2005 memoir, "Green Suede Shoes: An Irish-American Odyssey," Black 47 front man Larry Kirwan wrote about the impact that the strikes had on Irish Americans, who gathered in Manhattan in a kind of vigil and protest as they watched these men, one-by-one, surrender their lives for the cause of Irish unification.
Larry kindly let us share this reminiscence with WG readers two years ago to commemorate the Hunger Strike's 30th anniversary. In it, he wrote:
"Margaret Thatcher did not have the sense or the good grace to attempt a meaningful compromise with Sands and his comrades. No matter what one thought of the conflict in the North of Ireland, who could have denied that those prisoners had a political point of view and were pursuing it for political ends? That's what the hunger strike was all about; that's what the ultimate points of principle hinged on. And that's why the protestors lined Third Avenue every minute of the day for months on end, until 10 young men starved to death. And when it was over, Irish-America was not the same. A new generation had been politicized and would hand down a new folk memory to their children and the generations following."
Tell us your reflections on the passing of Margaret Thatcher, a key player in the evolution of the geo-political landscape we see in the 32 counties today.