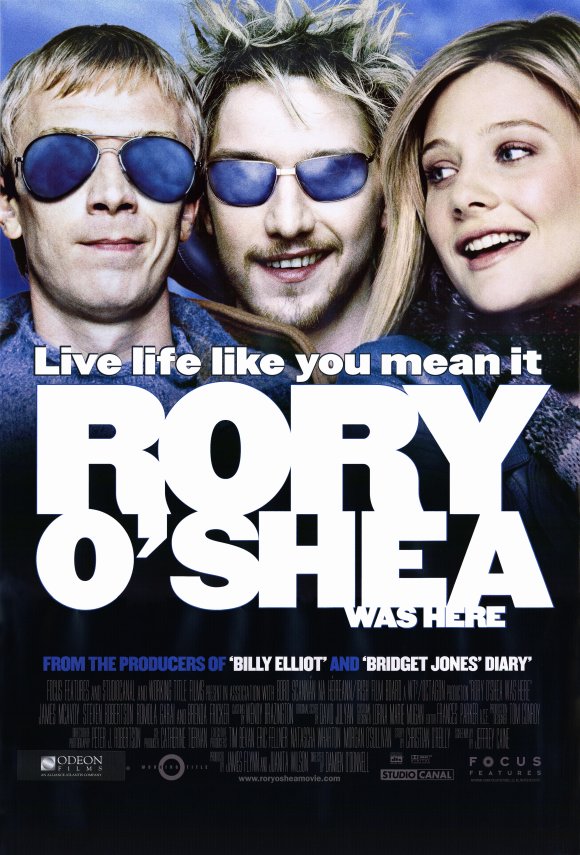 Long Island City, N.Y. – How we try, and often fail to communicate, and how we ultimately and triumphantly can bridge that chasm came across as the focus of two extraordinary and allegorical films that screened Saturday night in Queens at New York Irish Center's periodic 'Irish Movie Night.'
"Rory O'Shea Was Here," the night's main event, debuted in 2004, stars Glasgow-bred actor James McEvoy, and was helmed by Damien O'Donnell from a script by Jeffrey Caine and story by Christian O'Reilly. "Rory" was presented with a short film titled "Fluent Dysphasia," starring Stephen Rea and written and directed by Daniel O'Hara, a remarkable double-bill assembled by the Center's Chris Deignan.
What I found startling, despite coming in three minutes into the opening film, the 16-minute 'Dysphasia,' is how vividly the films conveyed the frustration created by our failure to understand each other. Having seen both films, I'm inclined to make the case that our difficulty communicating clearly and honestly may be among the greatest challenges we face as human beings.
Overcoming these obstacles provides the setup for these two immensely satisfying explorations of speech and its role in our lives, in a distinctly Irish context but one with universal relevance. 
In "Rory O'Shea Was Here," wheel-chair bound Rory fatefully encounters Michael Connolly at Dublin-based Carrigmore Residential Home for the Disabled, where Michael seemed to have made peace with his cerebral palsy and his inability to articulate well enough to be understood by anyone. Twenty-something Michael, portrayed by fellow Scottish actor Steven Robertson, is a favorite of the staff there, in large part because he passively accepts the home's program -- affection is so easy to lavish on someone seemingly so helpless.
Rory, 20, as portrayed by McAvoy, presents a stark contrast. When Rory noisily arrives, he introduces himself to fellow residents and staff: "Rory O'Shea. Duchenne Muscular Dystrophy. Besides the full vocal range, I have the use of two fingers of my right hand, sufficient for self-propulsion and self-abuse. You can shake me hand or kiss me arse -- but don't expect me to reciprocate." 
Right, Rory, portrayed by James McAvoy, races neighborhood kids for their pocket money. Still from "Rory O'Shea Was Here" (2004)
With Rory's whirlwind entrance, nothing in Carrigmore will remain the same, at least not until Rory effects his long-desired exit to independent living. In a brilliant twist, much to Michael's own amazement, Rory understands everything Michael says. And this allows Rory to take Michael with him from the facility, though one could debate just who is liberating whom.
In a memorable scene, Rory and Michael participate in a fund-raising effort for Carrigmore on a Dublin street, with institution-issued cups, caps, and ID badges in hand, and all able residents of Carrigmore hitting the streets. With their cups nearly brimmed with currency, Rory suggests to Michael they reward themselves for their day's work, and wheel themselves into a nearby pub, where they use the proceeds to treat two young women to numerous rounds of drinks. Finally, Rory and even Michael grab a kiss with their favorites. It's a transformative moment for Michael.
Ultimately, Michael is able to get an allowance for his own apartment, something he would never have contemplated before Rory's entrance, and Rory and he move into a flat. They hire Siobhan, a bodacious blonde supermarket clerk, as their much-needed assistant, portrayed by Romola Garai. Rory, and then later Siobhan, become Michael's bridges to self-realization. "Rory O'Shea" also contains solid performances by Dublin-born Brenda Fricker ("My Left Foot") and Tyrone-born Gerard McSorley ("Veronica Guerin" and "Omagh").
In "Fluent Dysphasia," Academy Award Nominee Stephen Rea stars as Murph in this 16-minute film. Murph and his teen-age daughter have a communication failure, with seemingly little to share between them other than the family tie itself. She is struggling with her Gaeilge homework, while Murph and a buddy celebrate a win by their local football side. Murph overdoes the partying, and awakes in the morning only speaking and understanding Irish, a language he had -- and has -- no interest in mastering.
Left, Stephen Rea ("Murph"), in a scene from "Fluent Dysphasia," tries to buy a train ticket as Gaeilge in Dublin.

In one particularly comic turn, Murph tries to buy a rail ticket and the clerk doesn't understand him. Murph persists as Gaeilge, struggling to make the clerk understand what Murph wants. Finally, the clerk finds what he feels is clarity, that Murph is having him on, and the clerk comes out with something like "Yea, I love the Irish, me … Go n-éirí an bóthar leat and all that. Cead mile failte, what!" and slides over the ticket. There is no victory for Murph here.
Ultimately and ironically, Murph has to depend on his daughter – and her school-level Gaeilge -- for the help he needs to regain his English. (You can watch the film in its entirety in HD via YouTube.)
This resonant pair of films raise for me a question: Can anyone be truly voiceless if just one person can understand him or her? As suggested in these offerings, the sublimest communication transcends mere words, embracing heart, humor, yearning, and heartbreak, as well. Ger