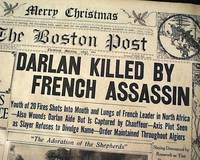 Part 2 of 3 of the series 'We Will Probably Land Christmas Day': At War in the Atlantic, 1942 
Part 1 of 2, "Getting To Where We Are Going" includes my father's accounts of his first quiet week on the high seas heading to North Africa as part of a convoy transporting tens of thousands of U.S. soldiers to support the Allies' ongoing invasion of North Africa. Part 2 begins with his musing that there are "3 more shopping days left and I haven't a thing to buy.' It includes the USS Elizabeth C. Stanton's approach to Spain, passage through Gibraltar and safe arrival in Oran. 
Upon landing in Oran, my Dad told me, he was issued a pistol, despite his complete lack of firearms training, and told to help guard the gangplank, as the Stanton arrived the day after a gunman in Oran assassinated Vichy France's Admiral Francois Darlan, who had weeks before pledged his support for the Allied forces pouring into North Africa. All leaves were canceled amid the high dudgeon ashore.
A postscript 'Who Turned Those Lights On,' the third and final part of this series, presents a transcript, along with the actual recording, of a 10-minute conversation with my Dad on the incidents described here, an account which goes beyond the rosy portrayal of the events related in this letter to my Mom.
Photos: Above, a headline from the Christmas Day 1942 edition of The Boston Post. Below right, the letter my Dad wrote my Mom on Dec. 25, 1942. Photo bottom is a 1941 picture of Evelyn and Gerald Regan (my folks) and his brother Raymond's wife, Marion, Richmond Hill, Queens.
Sunday
Dearest Evelyn
I miss you very much. I hope that when I come back you don't get tired of hearing me tell you much I love you. This is our second Sunday at sea and in a short while I am going to Mass given by the Army Chaplain. The Navy hasn't any Chaplain so the Army supplies one.
So we should reach Gibralter and then around Thursday or Friday we should reach Oran. I never thought that I would spend my Christmas in Africa. The sea is quite calm today, but the air is a little chilly. I keep wondering how your money is holding out and whether or not you got a job that you like. I only hope that when I come back we well be blessed by God with Pat. Gee wouldn't that be swell? I guess that when I get back Jimmy will be in the Army. When you get this letter I hope you tell everyone I sent my regards. I only wish I could call you on the Phone Christmas but that's impossible so I will just say a few prayers for you. Gee Honey I love you.
Monday
Hello Honey:
Either late tonight or tomorrow we will sight the Rock of Gibralter. If three weeks ago when the news of the African front was told I thought that I would be in Africa on Christmas day, I would tell them that they were crazy. But here it is only 3 more shopping days left and I haven't a thing to buy. I hope that you don't get tired sending out our Christmas cards. The sea is very calm and the air is getting warmer.
By now I am an old sea salt, no matter how the ship rocks I just rock with it and I have learned to eat with the food sliding back and forth in front of me.
We all have to wear our battle helmets from today on. I guess this is to protect us from falling stars.
This would be a nice honeymoon trip for us. Maybe someday when the war is over we will take our planned trip around the world. Well honey I have to stop now as I have to go on watch. I'll be thinking of you all the while. I'll write more later.
Tuesday
Hello Honey
We have not yet passed the Straight of Gibralter but this morning we passed the islands of Midaras, (Madeira) which I think are somewhere off the coast of Spain.
I wish you were with me last night. There was a full moon and it just lit up the whole sea, the water reflected the moon and it was so calm and quiet. Just the place to be with your best girl.  Tomorrow we are supposed to have a Turkey dinner and celebrate Christmas aboard ship. It seems impossible the Christmas is so near and you are so far away. We should land in Oran late Thursday or Friday morning so say a few prayers for me. I know you won't get this letter for some time but say a prayer anyway. When I get back I have so much to tell you that you'll get tired listening to me. I wonder if your brother [Bob] has joined up yet. I also keep thinking that maybe my brother [Raymond] is in this same convoy. I hope he isn't but there is a possibility that he may. So long for a while, I will write more later.
I love you.
Dec 23,  Wednesday
Merry Christmas Dear
Its Christmas aboard ship although it is only Dec 23rd. We are going to have our Turkey dinner in a short while. We still are waiting to go through Gibralter. The British are late as usual and we are sailing around in circles waiting for their escort. Not that their help is needed. I was on watch this morning and I never saw such a beautiful sunrise in my life, it came up over the African coast.
Everyone is getting restless and are anxious for the trip to get over with. I hope we get a good reception when we land. When it's Christmas in N.Y. I will say a prayer for you and my Mother + Father. At least I know that I have a Christmas tree somewhere even if it is 4000 miles away. The crew of this ship was on sea Thanksgiving Day and will be on Christmas Day and New Years Day. They sure are doing their part in winning the war. By the way, I wonder how the war is making out. We don't get any news about it at all. So long for a while as we are going to eat. I love you and miss you very much.
Thursday
After 2 days of going around in circles we have finally met the British escort. They were only 2 days later. We should surely go through the Straight today and land at Oran sometime tomorrow.
Yesterday at our Christmas dinner, which was very good at that someone brought out a phonograph and played records . It was just like being home with you listening to the Make Believe Ballroom. When I get back you better let me listen for the whole two hours every night as I have to make up for all the nights I am missing it. As we are going to land soon I will close this letter as we dock so one of the sailors who is going back to the states can take it with him and mail it in N.Y. If I mail it on board it will be censored and you will still have to wait for the ship to get back to N.Y. before you receive it. As this is Christmas Eve back home I sure do feel homesick, but I have a strong feeling that it won't be long before you and I are together again. I hope that you are well and in good spirits. Well Honey I will close now for a while as I have a 12 to 4 watch this afternoon. So long for a while. I love you.
Dec 25, Friday
Dear Evelyn
We are now in the Mediterranean Sea slowly heading for Oran. During the night we finally passed through the Straight of Gibralter. And now we can clearly see the Coast of Spain. It sure is a small world. The sea is quite calm and the air is warm. As yet we have no action. This will be the last of this lengthy and boring letter as I will have to close it early so I can give it to some sailor who is going to mail it in the states for me. When you get this letter, please do not answer it at the address on the envelope as I won't receive it. Instead wait until you hear from me again. Maybe the next time you hear from me it will be over a telephone.
As this is Christmas day back home I am enclosing a large kiss for you and I wish you a Merry Merry Xmas and a Happy New Year. And with the help of God I will soon be with you.
Remember Honey don't answer until you hear from me.
I sure do miss you and love you very much. Please be good and take care of yourself for me.
I love you always,
Jerry
P.S. Be careful and Pray to God for both of us.